Meet the team


For the past 20 years sole Director, Chrissy Lando has been immersed in her career, receiving many awards for top sales in Queensland and Australia. Among them, a few have become priceless. Christina Lando was invited to and participated in:

'Running with the Torch' for the 2000 Olympics for top sales Queensland provided by major sponsor Ansett Airlines
Winning the coveted title of 'Office of the Year' for the Harvey World Travel Group as manager of the Mt Pleasant office in Mackay.
Numerous consecutive year's Gold awards for over $1Million dollar sales

Christina Lando
Mobile: 04 12345 920
Email: chrissy@explorelife.com.au

From humble beginnings, Chrissy never looked back when she gained a position in 1989 as Junior Travel Consultant in Mackay. Chrissy has now travelled the seven continents of the world, finding inspiration on the way.
"Travelling just makes me feel so alive.. people are my passion.. the world is my life."

What is the importance of travel in one's life?
Extremely high!
It's the people that you meet and the encounters along the journey that allow you to grow and appreciate life!
I'm a big believer that at least once in a person's lifetime, not only should they experience travelling, but they should also experience 'travelling alone'. It makes you feel raw and open to the world. Your mind is freed of any previously conceived ideas and expectations and it is 'this getting out of your comfort zone' which provides you with the opportunity to just sense the places for what they really are. It is also at this point in time, that your heart, mind and soul become enhanced.
What do you do when you first arrive in a new place?
Work out how to operate the shower! Go for a wander, sample the food, enjoy a local beer and have some fun practicing the language with the people!
Describe your last journey...
Berlin, Prague & Cinque Terre [Italy] - Awesome!
Conversations! [Of both the verbal & non-verbal type - use of hands!] which resulted in an exchange of laughter, hugs & kisses - priceless. The music was magnificent! The beer and wine - cheap and tasty! Mangia, mangia! [Italian for eat!]
Getting lost amongst the olive groves, lemon trees & grape vines - heaven.
Favourite destination & why?
No favourite. Wherever I am at that moment in time, is my absolute favourite. Each destination is fantastic for its own reasons. I'd easily go back to any of them again. I never tire of travelling.
What is your dream destination & why?
Anywhere that I have not been and there are still plenty of these! I just love discovering new places & new people. I treasure that mysteriousness that circles between cultures and it always leads me to want to find out more about a person's way of life. I get so much pleasure out of fleeting moments of exchange with another, whether it be a smile, a laugh or a longer conversation. People's expressions, their wisdom & insight of our world keep me captivated time and time again.
What do you enjoy doing in your spare time?
I love being at home. Being active, visiting our beautiful beaches & hinterland and playing with my beautiful blue heeler - Lucy!
What has been your most memorable moment on your travels?
The choir! I was at a folklore show in Prague when the table of about 30 persons sitting adjacent to me, broke out in song during the interval. A young French-Canadian translated to me that they were a Swiss-French choir practising for their competition the next day. Their harmony was so beautiful, it sent chills down my spine. I couldn't speak French nor could they speak English but my face would have expressed my enthusiasm for the sound of their voices. On exit, the entire 25 or so, proceeded in a line to give me a hug and kissed me 3 times on the cheeks, simply because I appreciated their singing! I was moved to tears and uncontrollable laughter, as it took me by complete surprise and made me feel like I was the star!
What is your most embarrassing moment travelling?
One of the least embarrassing moments... [I can't publicise the most!]... was having to ask my room mate to hose-off my backside, to relieve the pain of two gigantic blisters, that I'd attained from riding on a back of a donkey to the Valley of the Kings, in a pair of boardies! Tip: Try a horse or camel instead!!
Travel tips:
· Always carry a roll of toilet paper in your handbag/daypack or pocket!
· Eucalyptus tissues are great for blocking noses in unbearably, smelly situations
· Enjoy every minute! Travelling is such a privilege and many people never have the chance.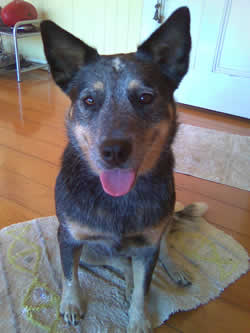 Lucy Lando - Chief of Quality Control & Security