Viwa Island

TAKE ME THERE!!!!!!! Well, I've been actually, but have you?
Viwa Island Resort, is pure paradise! Located in the Yasawa Islands Fiji, it is one of those places that you'll be just itchin' to exchange those three little words!
Wonderful Wooden thatched roof, Fijian Bures [total 11] are dotted spaciously along the white sandy beachfront. I enjoyed my own space alone [I love you...VIWA!] and stayed in Bure # 6 which had magical views of the inviting deep blue sea, as all the bures do. I really felt like I had the island to myself [I practically did!]. Multitudes of attentive staff reached out to assist my every whim, always with their broad Fijian smiles and warm natured hearts.
Charlie and his fire lighting, Seko seranading guests with his singing trio, Mereani and her magical massages, Michelle, Des, Alf & family [owner/managers] ensuring your every need is fulfilled. I could go on and on about the staff and single handedly name all kinds of individuals from the garden keepers to the receptionists to the chef's but I will fill the page and you would learn nothing else! So you get the picture. The staff of Viwa Island are it's best asset [hard call] but people & their passion for service can really make or break your love affair with Fiji.
It is a credit to the Downing Family to consistently produce a 4 star unspoilt haven, with 5 star soul. I dropped a few tears in the ocean as I hugged, kissed and waved everybody goodbye. Happy times were had, that is for sure.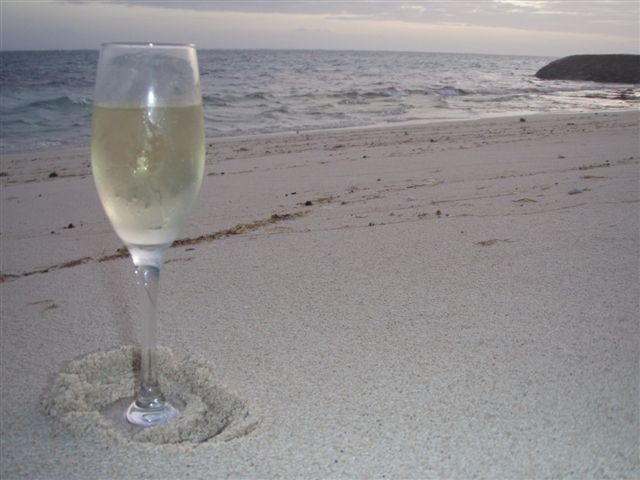 I truly couldn't get enough of this place. I wanted to join the management team and stay! It's natural surrounds will take your breath away. For at least an entire hour, I lay at the waters edge to feel cleansed by the soft rolling surf as it ebbed and waned. I giggled like a little girl, as my legs got flung high above my shoulders and twisted my body into oblivion. It was so peaceful, so comfortable, so damn loveable, that many more hours could of passed by me without a care in the world.
From just a few metres away, I heard the mellow tones from my bure. The sweet sound of ice clanging, a cork popping and bubbles of my duty free Moet being poured, stole me away from my sandy beach bliss. Life is such a beach!
May 11, 2010 11:58 AM