Boorman Eco

ROMANCE ME!
Fill your lungs with the crisp, clean mountain air and smell the freshness. The sight of the canopy at first light is enchanting. To wake to the music of the forest is pure pleasure. Feel the dew from the grass under your feet and the cool air kissing your skin.
Sounds like the perfect retreat for a couple, yes? Slight hitch! We just broke up. Ironically, this was my birthday gift for him! So off on a romantic weekend for two I trot with my beautiful blue heeler, Lucy! Everyone has to have their hearts broken once though, right? It's how the light gets in. The cracks shape us, make us who we are. I just needed to go nurse mine for a bit! Tucked away in Maleny's Hinterland you'll find her.....and just having the taste for a short while, left me salivating for more.
It engages all your senses! It's my special place. On driving down the steep private road for the very first time, I slammed the brakes on [poor Lucy - my blue heeler - tumbled from the back seat!]. I stopped to admire what stood in front of my eyes. This silver [corrugated iron] majestic feature was shining, as the afternoon sun lit her up in the spotlight. Her beauty commanded presence as she stood upon the rock face, surrounded by dense rainforest which draped dramatically into the valley below.
Her name: Boorman Eco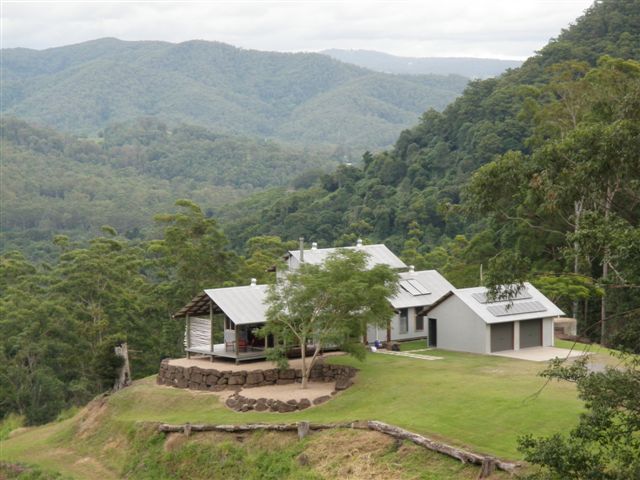 An elegant black piano greets me, is staring at me, begging me to play to compliment the sounds of the wilderness. I oblige but can't do it justice, since as a child I had only learnt the organ. Each day however it grabs my attention and I play a few keys as if I am a star from the movie SHINE [Geoffrey Rush].
"Oh!" The fireplace I exclaim!
Robyn who is introducing me to Boorman Eco [Robyn & Greg are the local caretakers] comments, "You won't need one at this time of year though, would you?"
I reply, "Probably not, but every inch of me wants to always indulge and partake fully in the experience and opportunities, so to have a fire would be extremely fulfilling!".
[Can't say my childhood growing up in the bush taught me how to light one!] We were most often trying to put fires out that got away to the next cane paddock and wreaked havoc! My persistence got me a fire after my fourth attempt. I finally felt more content. Thereafter I indulged in a fire every night for my 4 night stay and am proud to say I could light one without firelighters!
Bubble bath and my Dermalogica Stress Relief oil along with Philip's cellar red [generously provided by the Boorman's] were vital to my longing bath experience. The bathtub was humongous! I could lie down the length of it and I only filled it a quarter full to be covered! It was sooooo deep! From my tub was an awe-inspiring view out to the wilderness.
I opened up every door and window, every louvre, and kept it that way day & night during my entire stay. It was like 6 star sophisticated camping amongst the vines, except better, since I could admire not only the openness of the structure but the building itself. Most people want mirrors on the ceilings of their bedrooms. I was ecstatic to gratify in the wooden roof. The hardwood design was throughout upper & lower portions of the house but also in the garage!
Wood! Wood! Woodland!
Wood was everywhere and it blended perfectly with the corrugated iron externally. Every wall that could be bi-folded by windows or doors was!
And it wasn't just in the walls. Woodland was far and wide, high and low! Ample opportunities presented themselves to trek the mountains through fairly open canopy and a surprisingly wet environment, even though the sun filters through the tree line. The Boorman's have done an amazing job on conserving the bushland which is continually ongoing of course. On their plantation, they have their own private access walks which I discovered and loved the most. There is also access to one of the GREAT WALKS from their private road entrance. I did that too and met some equally joyous walker's enroute.
A simple but ultra comfortable, amazingly designed home, contrasts with elegance, sophistication and luxury. The added benefit of the private hinterland beckoning at your doorstep just makes the entire experience divine!
What's missing?? Can someone please bring me breakfast in bed? [Ah...Butler service!] ....Or perhaps a new beau????
May 7, 2010 4:18 PM