Solomon Islands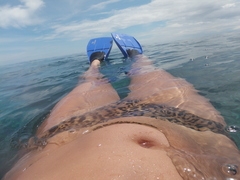 OMG (oh my god!)... on landing in Honiara I thought... "S**t what sort of hell hole have I booked myself into! Overwhelmingly humid & hot, with sweat dripping off me, I disobligingly stand in line to complete custom formalities, only to be told by those ahead of me "photocopy no good" and the scurry of people filing backwards to get new original forms, unlike we were handed on the aircraft. By the time I work out what's going on, I find myself at the very end of the line. Additionally, I, am the last person to clear customs and therefore, also the last hope of a fare for the multitude of taxi driver's patiently waiting in the arrival halls! "Taxi? You want Taxi?" With fishing rods and duffle bag a hoist and patience running very thin, I struggle to walk half a kilometre along a dirt road to the hardly distinguishable, domestic terminal - a tin roof shed!
Alas! Times are a changing as our low flying aircraft provides me with some WOW experiences. The cold red cordial went down a treat and in childlike fashion I throw myself out of my seat from one side of the aircraft to the next to view the magical and pristine lagoons below me. Excitement builds as I imagine drenching myself in the turquoise blue water with the colourful, abundant marine life swimming around me.
Black tip reef sharks, Lion fish, Nemos, grey nurse sharks, giant clams, zebra sea snakes, dolphins, swarms of reef fish, dart fish, pretty coral, Fish! Fish! Fish! And this is simply just snorkelling! Uepi Island resort on the Maravo Lagoon is in such a wonderful location, is well established and offers quality timber bungalows on the beach. Each are scattered comfortably away from each other over the grounds of the resort. The owners, the Kelly family Jill, Grant, Wes & Jason originally from North Queensland have been long established and really know the Solomon's way of life. They live and breathe the heart and soul of the Solomon people and share this with their guests at the resort. Uepi is amazing for both diving and snorkelling and the food is yummy! Swimming & eyeballing more than 25 sharks in the shallows was such an exhilarating experience! I just couldn't get enough of it!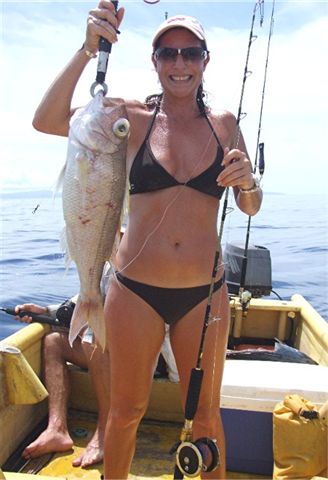 Jo and Lisa from Zipolo Habu otherwise referred to as "Lola" on beautiful Lola Island provide a range of accommodation from traditional to deluxe bungalows. I stayed in the traditional huts with shared bathroom facilities. All have lovely views of the ocean in front of you and although, a little hot when the generator goes off at 11pm, the mosquito nets, fridge & gas cooker were added comforts. Crayfish for dinner every night - who could complain! It's a top spot for fishing and we joined another keen angler on a charter who gave us invaluable tips on popping & bottom fishing. I must say, I did beat the men in the fishing competition with the MOST, the LARGEST & the BEST QUALITY fish of the day! YAY! GO GIRL!
I waved goodbye to Lola as I jumped aboard a tinny for a 30minute ride to Munda Airport. The flight from Munda to Gizo is only 15minutes. Before long, I found myself being whisked away on a boat from Gizo airport, to Sanbis Resort. Spectacular! What a top spot. High quality wooden bungalows intricately dotted along the waters edge immediately grabbed my attention. The white sandy beach, bungalow overlooking the beautiful reef lagoon, along with the manicured natural grounds & resort facilities makes for a very enjoyable stay. 'Hans' a passionate gentleman with Swiss origin, owns and manages Sanbis along with his well trained local Sol team. The European influence is highly exposed in the quality of the workmanship, layout structure, interiors and design. Conversations with staff were a pleasure and meals, beverages and the coffee a delight! Access to some surf breaks and fishing spots were very joyous experiences, thankfully to the generosity provided by Doug & Karen whom were guests staying at Sanbis. They had arrived with their own boat. The personal and intimate nature of Sanbis, allows great privacy, yet ample opportunity to befriend other guests. I love building relationships with new people and I found so much joy in discovering & sharing the interests and lives of those around us. I guess that this is the ultimate reward that I felt gifted with, from staying at Sanbis resort.
Solomon Islands... or Sol's as I prefer to refer to them are raw and adventurous. The basic tourism infrastructure can at times be frustrating but the beauty you consistently find yourself amongst, will take your breath away.
BYO: ice, air-conditioning, & boat or leave such comforts at home and enjoy the hospitality and excitement that an encounter in the Solomon Islands will provide.
February 11, 2010 2:12 PM